A cerebrovascular event (stroke) is a clinical syndrome caused by disruption of blood supply to the brain, characterised by rapidly developing signs of focal or global disturbance of cerebral functions, lasting for more than 24 hours or leading to death. A transient ischaemic attack (TIA) refers to a similar presentation that resolves within 24 hours.
A stroke results either from ischaemic infarction of part of the brain or from intracerebral haemorrhage. Ischaemic infarction may be caused by atheroma or thromboembolism and, more rarely, by trauma, infection or tumours.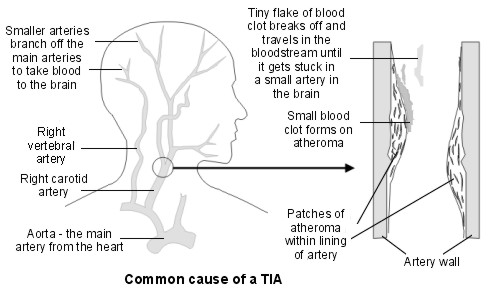 Cerebral infarction accounts for about 70% of strokes.
Primary haemorrhage accounts for about 15%.
Subarachnoid haemorrhage accounts for approximately 5%.
The remainder is of uncertain type.1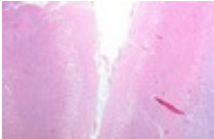 Aetiology
Young patient
Subarachnoid haemorrhage.
Venous-sinus thrombosis.
Carotid artery dissection, e.g. via near-strangling or fibromuscular dysplasia.
Older patient
Epidemiology
Stroke is a major health problem in the UK:
An estimated 150,000 people have a stroke in the UK each year.
There are over 53,000 deaths due to stroke each year in the UK.
A further 20,000 people have a transient ischaemic attack (TIA).2
Risk factors
Hypertension.
Heart disease (valvular, ischaemic, atrial fibrillation).
Post-TIA (TIAs are associated with a high early risk of stroke).3
Carotid artery occlusion; carotid bruit.
Excess alcohol.
Clotting disorders.
Presentation
Either sudden onset or a step-wise progression of symptoms and signs over hours (or even days) is typical.
In people with sudden onset of neurological symptoms, a validated tool, such as FAST (= Face Arm Speech Time to call 999), should be used outside hospital to screen for a diagnosis of stroke or TIA.2
Focal signs relate to distribution of the affected artery, but collateral supplies may cause variation in the presentation.
Cerebral hemisphere infarcts (50%) may cause:

Contralateral hemiplegia which is initially flaccid (floppy limb, falls like a dead weight when lifted) and then becomes spastic.
Contralateral sensory loss.
Dysphasia.

Brainstem infarction (25%):
Lacunar infarcts (25%):

Small infarcts around the basal ganglia, internal capsule, thalamus and pons.
May cause pure motor, pure sensory, mixed motor and sensory signs, or ataxia.
Intact cognition/consciousness.
Dysphagia affects a large proportion of stroke patients.4
Differential diagnosis
Aways exclude hypoglycaemia as a cause of sudden-onset neurological symptoms.2
The two types of stroke are not reliably distinguishable clinically but pointers include:
Consider a drug overdose if the patient is comatose.
Investigations
FBC - thrombocytopenia, polycythaemia.
Test for sickle cell disease.
Erythrocyte sedimentation rate (ESR) - giant cell arteritis (consider temporal lobe artery biopsy, start steroids).
Hypoglycaemia, hyperglycaemia and hyperlipidaemia.
Syphilis - active, untreated.
Hypertension:

Large heart on CXR.
Ventricular hypertrophy on ECG.

NB: raised blood pressure may be an acute result of stroke, and therefore should not be treated unless sustained. Treatment of raised blood pressure soon after a stroke may lead to a worse prognosis.

Emboli from the left atrium may have caused the stroke. Look for a large left atrium on CXR and consider echocardiography.
Post-myocardial infarction - mural thrombus is best shown by echocardiography.
Brain imaging should be undertaken as soon as possible in all patients, at least within 24 hours of onset unless there are good clinical reasons for not doing so. Brain imaging should be undertaken immediately if the patient:2

Has indications of thrombolysis or early anticoagulant treatment.
Is currently taking anticoagulant treatment.
Has a known bleeding tendency.
Has a depressed level of consciousness (Glasgow Coma Score below 13).
Has indications for thrombolysis or early anticoagulation.
Has unexplained progressive or fluctuating symptoms.
Has severe headache at onset of stroke symptoms

Infective endocarditis: 20% of those with endocarditis present with CNS signs due to septic emboli from valves.
Carotid duplex ultrasound: in stroke or TIA in carotid territory.

Management

Acute stroke management

Patients should be admitted to hospital (ideally a stroke unit for initial care and treatment, unless the diagnosis will make no difference to management, e.g. where the optimal management is palliative care).6
Maintenance or restoration of homeostasis:2

Oxygen therapy; give supplemental oxygen only if oxygen saturation drops below 95%.
Blood sugar control; maintain blood glucose concentration between 4 and 11 mmol/L. Provide optimal insulin therapy with intravenous insulin and glucose, for people with diabetes.
Blood pressure control.

There is currently insufficient evidence to reliably evaluate the effect that altering blood pressure has on the outcome after acute stroke.7
Give antihypertensive treatment only if there is a hypertensive emergency with one or more of the following:
Hypertensive encephalopathy.
Hypertensive nephropathy.
Hypertensive cardiac failure/myocardial infarction.
Pre-eclampsia/eclampsia.
Intracerebral haemorrhage with systolic blood pressure >200 mm Hg.

Consider blood pressure reduction to 185/110 mm Hg or lower in people who are candidates for thrombolysis.

People with acute stroke should have their swallowing screened before being given any oral food, fluid or medication. Also screen for malnutrition.1
Aspirin (300 mg) should be given as soon as possible after the onset of stroke symptoms once a diagnosis of primary haemorrhage has been excluded.8 Antiplatelet therapy should then be continued indefinitely. Aspirin should be delayed for 24 hours following thrombolysis.
Thrombolytic treatment: see seprate article Thrombolytic Treatment of Acute Ischaemic Stroke [link to http://patient.info/doctor/Thrombolytic-Treatment-of-Acute-Ischaemic-Stroke.htm]. Unless there are contra-indications, thrombolytic treatment appears to be effective in improving prognosis after an acute stroke.9 Treatment with alteplaseshould only be given provided that:

It is administered within three hours of onset of stroke symptoms (unless as part of a clinical trial).2
Haemorrhage has been definitively excluded.

Anticoagulants should not be started until brain imaging has excluded haemorrhage. In patients with acute ischaemic stroke, immediate anticoagulant therapy is not associated with any overall short or long-term benefit. Treatment with anticoagulants reduces recurrent stroke, deep vein thrombosis and pulmonary embolism, but increases bleeding risk. Therefore anticoagulants should not be used routinely for patients with acute ischaemic stroke.10
Drugs depressing the function of the CNS (e.g. anxiolytics and tranquilisers) and new prescriptions for sedatives should be avoided.
Do not start statin treatment immediately after an acute stroke, but continue statin treatment for people with acute stroke who are already taking statins.2
Encourage the person to sit up and mobilise as soon as their clinical condition permits.2
Patients with TIA, or patients with a stroke who have made a good recovery when seen, should be assessed and investigated in a specialist service (e.g. a neurovascular clinic) as soon as possible within seven days of the incident.
Secondary prevention of stroke and TIAs
See Stroke Prevention article12.
Long-term management
Please see separate article Cerebrovascular Event Rehabilitation.
Subarachnoid haemorrhage
Subarachnoid haemorrhage should be considered in any patient presenting with sudden-onset, severe and unusual headache with or without any associated alteration in consciousness. See separate Subarachnoid Haemorrhage article
If subarachnoid haemorrhage is suspected:

CT brain scan: immediately if the patient has impaired consciousness and within 12 hours in all patients. If the CT scan is negative or equivocal, lumbar puncture should be undertaken 12 or more hours after onset. Spectrophotometry should be used to permit detection of small amounts of xanthochromia.
An MRI brain scan should not be used to diagnose subarachnoid haemorrhage.

Once the diagnosis is confirmed:

Oral nimodipine 60 mg four-hourly is given, unless there are specific contra-indications.
Anti-fibrinolytic agents and steroids should not be given.
All patients should be discussed with a neurosurgeon immediately.
Imaging of cerebral vessels should be undertaken at the neurosciences centre.
A ruptured aneurysm should be treated by endovascular or surgical obliteration as determined by the neurovascular team.
All patients should be monitored for the development of treatable complications, especially hydrocephalus, cerebral ischaemia, electrolyte imbalance and hypotension.
Surgical management
Surgical intervention should be considered in cases of supratentorial haemorrhage with mass effect or posterior fossa/cerebellar haematoma.
Neurosurgical opinion should be sought for cases of secondary hydrocephalus.
Carotid endarterectomy:12

Any patient with a carotid artery territory stroke but without severe disability should be considered for carotid endarterectomy.
Carotid duplex ultrasound should be performed on all patients being considered for carotid endarterectomy and confirmed with magnetic resonance angiography or with a second ultrasound.
Carotid endarterectomy should be considered where carotid stenosis is measured at greater than 70%, as measured using the European Carotid Surgery Trialists' methods, and 50%, as measured using the North American Symptomatic Carotid Endarterectomy Trial Collaborators' methods.
Carotid endarterectomy should be performed within 2 weeks of the cerebrovascular event.2
Carotid angioplasty or stenting is an alternative to surgery but should only be carried out in specialist centres.

There is currently insufficient evidence to support intracranial stenting, unless part of research protocol.11
Consider referring for surgical decompressive hemicraniectomy if middle cerebral artery (MCA) infarction is present and all the following are met (refer within 24 hours of symptom onset and perform surgery within 48 hours of symptom onset):

Aged 60 years or under.
Clinical deficits suggestive of infarction in the territory of the MCA.
Decrease in the level of consciousness.
Signs on CT scan of an infarct of at least 50% of MCA territory or infarct volume greater than 145 cm3 as shown on diffusion-weighted MRI.
Complications
Patients who have suffered a stroke remain at an increased risk of a further stroke (between 30% and 43% risk within five years). The risk of a further stroke is highest early after the stroke or TIA.1
Patients with TIA and stroke also have an increased risk of myocardial infarction and other vascular events.
By 6 months, over half of stroke survivors will need some help with activities of daily living. 15% will have communication impairments and 53% motor weakness, and many will have problems with mood or cognition.
• Dysphagia affects a large proportion of stroke patients. Swallowing difficulties can result in reduced fluid and food intake, and cause aspiration, which can lead to aspiration pneumonia, undernutrition and dehydration.14
Other complications for the patient include thromboembolism, pneumonia, depression, contractures, bladder and bowel problems (e.g. incontinence, constipation) and bed sores.

NB: morbidity within carers is high - in particular stress, which is only partly relieved by respite admissions.
Prognosis
Most people survive a first stroke, but often have significant morbidity.
Mortality is 20% at 1 month and then 5-10% per year thereafter.
Drowsiness suggests a poorer prognosis.
Prevention
ABCD prognostic score for people with a TIA1
Total scores range from 0 (low risk) and 7 (high risk):
A - age (1 point where aged 60 or over).
B - blood pressure (1 point for blood pressure of 140/90 mm Hg, or higher).
C - clinical features (2 points for unilateral weakness; 1 point for speech disturbance without weakness).
D - duration of symptoms (2 points for 60 minutes or longer; 1 point for 10-59 minutes).
1 point is added for the presence of diabetes.

People who have had a suspected TIA who are at high risk of stroke (i.e. an ABCD score of 4 or above) should have aspirin (300 mg daily) started immediately, specialist assessment and investigation within 24 hours of onset of symptoms and measures for secondary prevention introduced as soon as the diagnosis is confirmed, including discussion of individual risk factors.
General Medical Services Contract Quality Framework audit criteria
Quality and outcomes framework guidance: stroke and TIA (April 2009):13
STROKE 1: the practice can produce a register of patients with stroke or TIA: 2 points.
STROKE 13: the percentage of new patients with a stroke who have been referred for further investigation: 2 points; payment stages 40-80%.
STROKE 6: the percentage of patients with a history of TIA or stroke in whom the last blood pressure reading (measured in the previous 15 months) is 150/90 mm Hg or less: 5 points; payment stages 40-70%.
STROKE 7: the percentage of patients with TIA or stroke who have a record of total cholesterol in the last 15 months: 2 points; payment stages 40-90%.
STROKE 8: the percentage of patients with TIA or stroke whose last measured total cholesterol (measured in the previous 15 months) is 5 mmol/L or less: 5 points; payment stages 40-65%.
STROKE 12: the percentage of patients with a stroke shown to be non-haemorrhagic, or a history of TIA, who have a record that an antiplatelet agent (aspirin, clopidogrel, dipyridamole or a combination), or an anti-coagulant is being taken (unless a contra-indication or side-effects are recorded): 4 points; payment stages 50-90%.
STROKE 10: the percentage of patients with TIA or stroke who have had influenza immunisation in the preceding 1 September to 31 March: 2 points; payment stages 45-85%.
---
Document references
---
Internet and further reading
The clinicians responsible for the production of this document are:
Original Author: Dr Colin Tidy
Last Checked: 11 Feb 2011
Current Version: Dr Hayley Willacy
Document ID: 1925 Version: 31
Peer Reviewer: Dr Hannah Gronow
© EMIS
Provide feedback