See related separate article Insulin Regimens

Oral hypoglycaemic agents are the group of drugs that may be taken singly or in combination to lower the blood glucose in type 2 diabetes. Type 2 diabetes can be due to increased peripheral resistance to insulin or to reduced secretion of insulin. They should be used together with changes in diet and lifestyle to achieve good glycaemic control, and it is customary to monitor such changes for three months before considering medication.
Oral hypoglycaemic agents are not usually used in type 1 diabetes,1 but metformin may be of use in overweight type 1 diabetics.2
Scheme for the pharmacotherapy of glucose lowering in people with type 2 diabetes3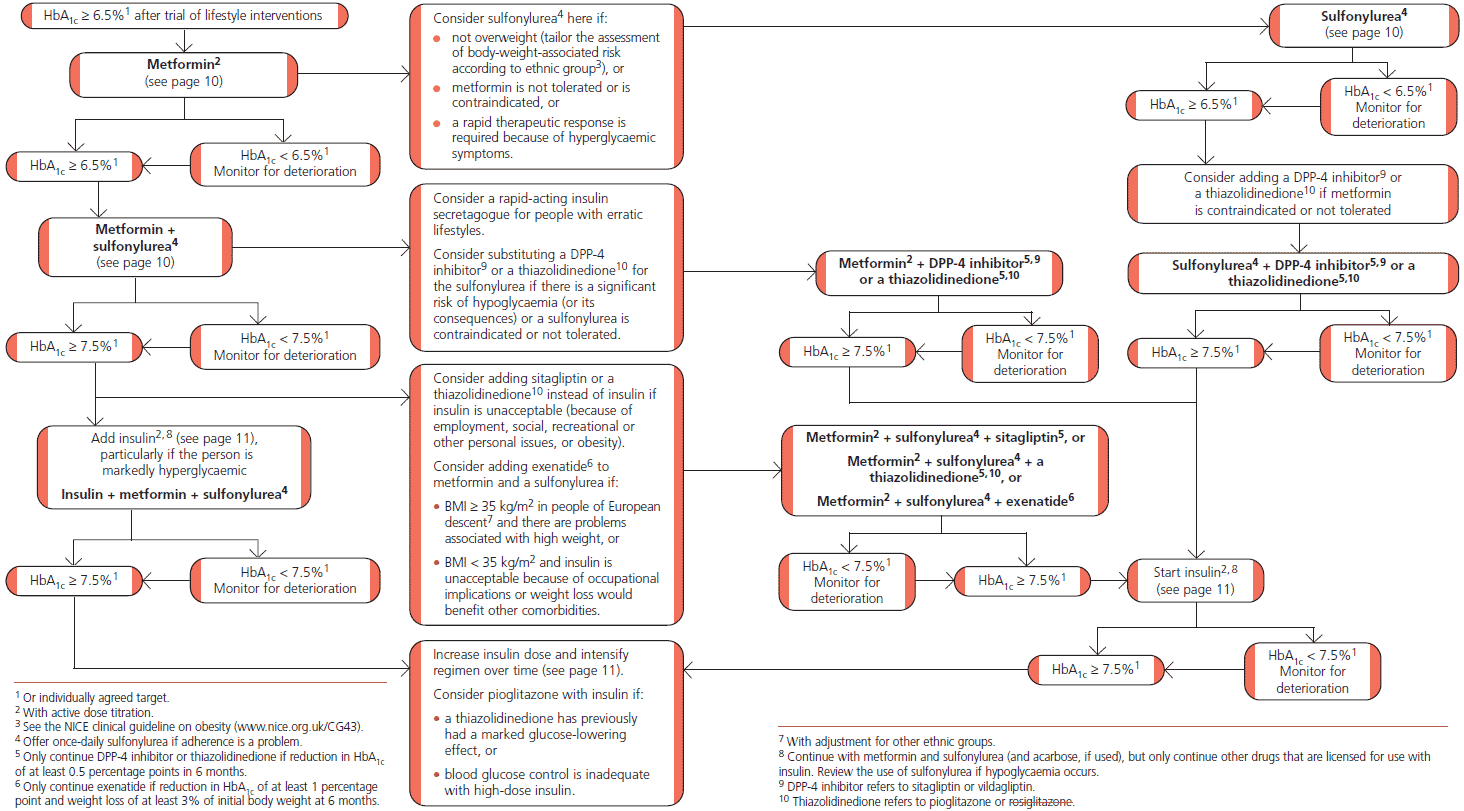 Reproduced from National Institute for Health and Clinical Excellence (2009) CG 87 Type 2 diabetes: the management of type 2 diabetes. London: NICE. Available from www.nice.org.uk/CG87 Reproduced with permission.

The following groups of oral hypoglycaemics are currently available:
Biguanides
Metformin is the only drug licensed in this group.4 Various theories for the mechanism of action have been advanced, the most widely accepted being that it acts at the level of skeletal muscle by increasing glucose transport across the cell membrane.5 It only acts in the presence of endogenous insulin, and is therefore only effective when there are residual functioning pancreatic islet cells. Manufacturers state it should not be used in renal failure (where creatinine clearance <60 ml/min).4 Local guidelines may vary, e.g. stop metformin if serum creatinine ≥150 μmol/L.
Benefits and indications. There is good evidence to support the use of metformin as a first-line drug in overweight patients when strict dieting has failed.6 There is a growing body of support for the use of metformin as first-line in all type 2 diabetic patients.

A summary of the evidence base is indicated below:

Metformin is the only oral hypoglycaemic shown to reduce macrovascular complications and death.6
It is associated with fewer hypoglycaemic attacks than sulphonylureas and does not cause weight gain.7
It is more effective than sulphonylureas in reducing any diabetes endpoint, all-cause mortality, and stroke. These improvements were not explained entirely on the basis of glycaemic control.8

Risks:

The main problem with metformin is the risk of lactic acidosis and this is more common in patients with renal insufficiency, cardiovascular disease, peripheral vascular disease, liver disease, pulmonary disease and in those aged over 65 (see individual drug monograph for full list).9
The risk is negligible if the contra-indications are rigorously followed, but does mean that approximately 50% of people needing an oral hypoglycaemic would be excluded from using metformin. It should be remembered that there is a temporary increased risk of lactic acidosis in situations where increased tissue hypoxia occurs, e.g. myocardial infarction (MI), infection or respiratory depression.
Gastrointestinal (GI) side-effects occur commonly with metformin at higher doses, and may necessitate a change of drug.
Insulin secretagogues
Sulphonylureas
Sulphonylureas are thought to act by enhancing pancreatic islet cell function.10 They are also thought to act on the liver, stimulating the glycolytic pathway and inhibiting the production of glucose.11 They generally have a duration of action of 12-24 hours.12
Benefits and indications:

Sulphonylureas may be used as a first-line drug where oral hypoglycaemic medication is required particularly in patients who cannot tolerate metformin or in whom it is contra-indicated.3 Their beneficial effects on reducing glycosylated haemoglobin (HbA1c) over a ten-year period is well documented. See separate article Glycosylated Haemoglobin.13
Newer drugs in this group, such as glipizide and glimipramide, appear to afford similar efficacy to the older drugs such as gliclazide.14
Chlorpropamide is no longer recommended, as it has more side-effects than other members of this group. Tolbutamide is a shorter-acting member of the group (half-life 4.5 to 6.5 hours).

As mentioned above, the group as a whole is outperformed by metformin in terms of clinical outcomes.
Risks:

The main risk with sulphonylureas is hypoglycaemia. This is increased in older age groups, mild-to-moderate hepatic impairment, and renal impairment. The risk can be reduced by using a short-acting drug such as tolbutamide, or one of the newer sulphonylureas such as glimepiride.14
Other problems can include weight gain, liver dysfunction and GI disturbance.
Rapid-acting insulin secretagogues - postprandial glucose regulators
The two meglitinides licensed for use in the UK are repaglinide and nateglinide. They are relatively short-acting stimulators of insulin secretion (<6 hours).12 They act by binding to various sites on pancreatic beta cells.15
Benefits and indications:

Meglitinides are characterised by short duration and rapid onset of action, which requires them to be taken before a main meal.
Repaglinide may be suitable as monotherapy for nonobese patients in whom metformin is contra-indicated or not tolerated, or in combination with metformin.16

Risks:

The main problem with meglitinides is hypoglycaemia but the evidence base is small. The trials that have been done indicate that the incidence of hypoglycaemia is equivalent to that of the older sulphonylureas.18
Thiazolidinediones
Thiazolidinediones (TDZs) or 'glitazones' - pioglitazone19 is the only one currently licensed in the UK. Its mechanism of action is still subject to debate but is thought to act in a similar manner to metformin, increasing hepatic sensitivity to insulin, and enhancing glucose clearance. Unlike metformin, it appears to have an effect on insulin-mediated glucose uptake at all insulin levels, making it particularly effective in patients with insulin resistance.15 This latter effect is thought to be mediated via peroxisome proliferator-activated gamma (PPRA-gamma) receptors, of which the glitazones are agonists.20 A TDZ may be preferable to a DPP-4 inhibitor if the patient has marked insulin insensitivity.3
Benefits and indications:

TDZs are usually used in combination with a sulphonylurea or metformin. It has also been licensed as monotherapy.
The combination with metformin or a sulphonylurea should only be used in patients unable to tolerate metformin and sulphonylurea in combination therapy, or in whom either metformin or a sulphonylurea is contra-indicated.

In such cases, the TDZ should replace whichever drug in the combination is poorly tolerated or contra-indicated.
A TDZ plus metformin is a useful combination for obese patients. The introduction of a TDZ may cause a deterioration of blood glucose control temporarily when used in combination therapy.

Pioglitazone may be considered with insulin therapy in patients who have previously had a marked glucose-lowering response to TDZ therapy or in those on high-dose insulin therapy and whose blood glucose is inadequately controlled.3

Risks:
Do not commence or continue a TDZ in patients who have heart failure, or who are at higher risk of fracture:3

The Medicines and Healthcare products Regulatory Agency (MHRA) advises that the TDZs should not be used in patients with any history of heart failure, as they can cause fluid retention and precipitate congestive cardiac failure.21,22 This risk seems more related to long-term use,23 and coterminous use of insulin.24
There have been rare reports of liver failure, but large-scale trials have shown no difference in incidence between TDZs and other oral hypoglycaemics.25,26 Baseline LFTs and periodic monitoring are recommended.19
Rosiglitazone has been associated with a significantly increased risk of MI and heart failure (but not cardiovascular death), and has been withdrawn in the UK.21
The MHRA also warns that trial data showed a small increase in risk of fractures (mainly foot or arm) in women treated with glitazones, so they are not ideal treatment options for women with other risk factors for fracture.
Only continue TDZ if there has been a beneficial metabolic response (HbA1c falling 0.5% in 6 months).3
Acarbose
Acarbose acts by inhibiting intestinal alpha glucosidases, which delays the absorption and digestion of sucrose and starch.27
Benefits and indications. Use acarbose for patients who cannot use other oral hypoglycaemics. Trials suggest that it can significantly improve glycaemic control over a three-year period irrespective of other therapy.28 It can also be used as an adjunct to metformin or sulphonylureas.
Risks. The use of acarbose is limited by its GI adverse effects. The United Kingdom Prospective Diabetes Study (UKPDS) reported an incidence of 30% flatulence and 16% diarrhoea.28 The side-effects do, however, decrease with time.
Dipeptidyl peptidase-4 inhibitors (sitagliptin, vildagliptin)
Sitagliptin and vildagliptin inhibit dipeptidyl peptidase-4 (DPP-4), increase insulin secretion and lower glucagon secretion (enhancing the levels of active incretin hormones).29 They are licensed for use in type 2 diabetes as monotherapy, or combined with metformin or sulphonylurea, or with a TDZ when treatment with these alone fails to achieve adequate glycaemic control.30,31 Sitagliptin may also be added in to insulin therapy.29
Benefits and indications:

They may be appropriate ahead of a TDZ when the latter is contra-indicated, or if further weight gain would cause or exacerbate significant problems associated with a high body weight. In these circumstances, they are considered as a third-line therapy in combination with metformin and sulfonylurea when glycaemic control is still inadequate.3
They can be considered second-line with metformin in patients at particular risk of hypoglycaemia (elderly patients living alone; other patients working at heights or with heavy machinery), or second-line in combination with a sulfonylurea in patients intolerant of metformin.3

Risks:

Hypersensitivity reactions may occur (anaphylaxis, angioedema and Stevens-Johnson syndrome).
Only continue DPP-4 inhibitor therapy if there has been a beneficial metabolic response (HbA1c falling 0.5% in 6 months).3
Glucagon-like peptide-1 mimetics (exenatide)
Exenatide is a synthetic form of exendin-4, is also an incretin mimetic, licensed for use in type 2 diabetes, in combination with metformin and/or sulphonylureas.32 It is given as a twice-daily subcutaneous injection up to one hour before meals (but not afterwards). It can be considered as an alternative to insulin therapy in obese patients who have failed to achieve adequate glycaemic control on maximal doses of established oral treatment regimens.
Benefits and indications:33

It may be a particularly useful step in patients who hold LGV or PCV driving licences, who would lose them if converted to insulin.
It has a comparable efficacy to insulin - and may offer some advantages due to its fixed dose regimen; it can cause significant weight loss (rather than gain). Hence, it is most appropriate in patients with BMI ≥35.0 kg/m2.3

Risks:

It can cause significant hypoglycaemia (consider reducing the dose of other hypoglycaemics).33
GI side-effects are common (particularly nausea).
There is an interaction with warfarin (monitor INR carefully).
The long-term safety of the drug is not yet established.
Only continue glucagon-like peptide-1 (GLP-1) mimetic treatment if there has been a beneficial response (HbA1c fall of 1% and a weight loss of at least 3% of initial body weight at 6 months).3
---
Document references
---
Internet and further reading
| | | |
| --- | --- | --- |
| © EMIS 2011 | Author: Dr Huw Thomas | Reviewer: Dr Laurence Knott |
| Document ID: 521 | Document Version: 7 | Last Reviewed: 27 Apr 2010 |
Provide feedback