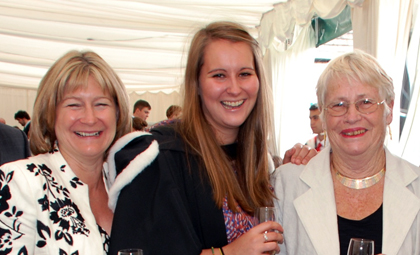 What's the biggest influence on your fitness? We asked three generations of one family from West London to tell us what they think...
Abi Lloyd, 22, says:
"I come from a very fit family. My uncle's a personal trainer and both my aunts do long-distance running. They're good role models, but the most important influence on my own fitness wasn't my family, it was doing sport at school. I joined my school's rowing team when I was 13. We used to train eight times a week, so my social life revolved around exercise. It's much easier to keep fit as part of a group than it is on your own. But in my second year of university I hurt my back, which meant my rowing stopped. At that point I could easily have stopped doing anything sporty, but because I'd learned to enjoy exercise, I found new ways to work out. I went to the gym and started doing Zumba. I've never wanted to stay fit in order to look a certain way or because I've got any health worries – I just love the feeling I get after a good work-out. Staying fit is part of my life because I enjoy it, not because it's a means to an end. I think that's important. Life is so physically easy now, that people have to make the choice to stay fit. It's much easier to make that choice if you can do something you really enjoy."
Alison Lloyd, 51, says:
"My family are the ones who drive me to stay as fit as I can. I'm the eldest of four very active siblings and I always want to prove that I can do as much as them! My fitness has ebbed and flowed through my life though. When my children were young I found it very hard to make time to exercise. I just used to walk a lot. Then, when my youngest started full-time school I took up tennis and played regularly. I can't do that now because I've hurt my hips, so I've been forced to find ways of exercising that my body can cope with. It's been a struggle to accept that change and I really miss the social aspect of competitive sport. But I have found new things I enjoy. I do rehabilitation yoga and Pilates and my youngest sister has introduced me to open-water swimming, which I thought I'd hate and discovered I loved. She's badgering me to try kayaking, so that might be the next adventure. I want to stay fit because I want to keep my body going. The fitter you are, hopefully the better your quality of life."
Evelyn McKee, 74, says:
"I've always thought that being active was the thing to do. My father and mother were quite sporty – they played tennis and cricket competitively - and I carried on with that attitude. I swim twice a week and I walk whenever I can. But then, the majority of my generation kept pretty fit. We had fitness imposed on us. We didn't have cars. And we didn't have TVs to sit in front of, so being indoors wasn't as attractive as it is now. It was more fun to be out. It's as I've got older that I've become conscious of the benefits of being active. To me, now, fitness means being able to do things, even if that's just having enough breath to get upstairs! You don't think of that when you're young. You just want to enjoy yourself. I do think Abi's generation will be less fit overall than mine were. They drink more and life is more sedentary. The ones who stay fit will – quite simply - be the ones who've learned to enjoy getting out in the fresh air. If parents can teach their children to do that, they'll help their fitness for life."
Dr Sarah Jarvis, our clinical consultant, says:
"It's great to remind ourselves that whatever our ages and level of fitness, it's always good for your health to keep fit. Evelyn is quite right to comment that this generation is, overall, less fit than the last – in a recent national survey, one in five people walked for 20 minutes at a time less than once a year or never! That would have been unthinkable before the days when almost everyone had cars. Regular exercise doesn't just burn calories and keep your weight down – it also reduces your risk of heart attack, stroke and diabetes, osteoporosis (thinning of the bone) and can slow the progression of osteoarthritis. If you need more convincing, look at patient.info's trusted medical information page about Physical Activity for Health to see just how many benefits there are. It's hard to miss sporting news with the Olympics still fresh in our minds, but it's important to remember that getting fit is about so much more than winning medals. Interestingly, many people see the achievements of Olympic athletes as so far beyond their grasp that they aren't inspired to go out and exercise. Instead, we are much more likely to be inspired by people just like us – friends and family who fit regular exercise into their routines despite a busy working life. So thank you ladies – you're a real life inspiration for all of us!"
Interviews & story provided by health writer Katie Masters - follow Katie on twitter: @mwnci22