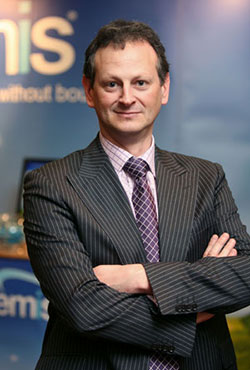 Sean has 20 years' experience of IT within the healthcare sector, all gained with the EMIS Group. Sean joined EMIS in 1989 as a Field Support Manager responsible for software demonstration and installation, as well as on-site training of EMIS software users within GP practices. Sean's initial role then developed into a broader sales and marketing role for the Group.
Sean has had significant involvement in the Group's pioneering initiatives, such as enabling GP appointments to be booked via the internet, digital television or mobile phone, the secure viewing of a patient's medical records over the internet and the growth of patient.info into one of the most frequently visited health portals in the UK. Sean is also one of the contributing authors to Patient Confidentiality, a medico-legal publication.
Sean was initially appointed to the EMIS board in 1999 and became Managing Director of EMIS in September 2006. He was then appointed Chief Executive of EMIS Group upon its incorporation in April 2008.
Sean worked for Provident Financial Group as a Business Information Analyst prior to joining EMIS and has a degree in Psychology.
Sean is also a Non-executive director of Pharmacy2U and the Spa Retreat Limited, a charitable organisation providing spa and complementary treatments to women and children with life limiting conditions.