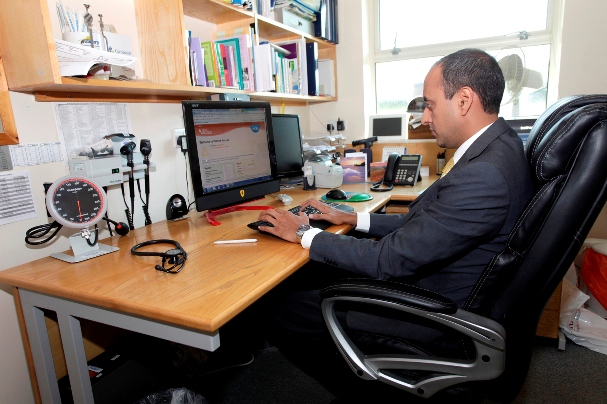 Patient Access is helping Deepings Medical Practice by freeing up staff resource and empowering patients.
The semi-rural dispensing practice near Peterborough serves around 23,000 patients, many of whom need to drive around ten miles or more to get to the nearest town.
Fielding calls and facilitating repeat medications was becoming a huge task. Rather than invest in additional resource, the EMIS Web practice chose to look at how it could use Patient Access more effectively.
Dr Majid Akram said: "We thought about things strategically. The people most likely to use Patient Access to book appointments are those who want to plan ahead, rather than those who need immediate attention. So, we opened up our GPs' appointment books for slots for appointments two or more days away.
"It worked brilliantly. Around 400 appointments are booked online each month. Calls are reduced which frees up the lines for patients that need a same day appointment. Also, by freeing up our reception staff, this has enabled us to give them additional training."
According to Dr Akram, this has had a big impact on patient satisfaction.
"With more appointments being booked online with Patient Access, our reception staff are able to spend more time on the phone with patients that do call to make sure they get to see the most appropriate clinician", said Dr Akram. "For example many patients that call up asking for a doctor are actually better suited to a consultation with the nursing staff. Similarly patients who would benefit from seeing a clinician with specific areas of expertise, for example relating to contraceptive needs, are now directed to our GPs with the relevant specialist skills.
"Online appointment booking has really helped streamline the whole process and that has seen our patient satisfaction levels soar."
Deepings Medical Practice has also applied the same strategic thinking to its use of Patient Access for repeat medication. This has resulted in over 1000 repeat medication requests made each month via the service.
Dr Akram explained: "As a semi-rural practice repeat medications is a crucial service. Our patients depend on us. With such a large number of patients to serve, fulfilling the demand is a huge task.
"To promote how easy and simple ordering repeat meds on Patient Access is, we enlisted the help of our Patient Participation Group (PPG). Not only did they do face-to-face talks with patients in the practice, they also went out into the community to highlight the benefits.
"We were concerned it might just be younger, I.T. savvy patients that would adopt the service but thanks to approaching its introduction in this way, we have a large number of older patients with multiple conditions who are really benefitting from not having to travel to order and pick up their medication. In fact, those aged between 60 and 69 accounting for more than 28% of those registered for our Patient Access services - more than any other age bracket."
In addition to helping those on regular repeat medications, the practice has also found that patients with one-off conditions are using the 'query' function of Patient Access effectively.
Dr Akram continued: "We are finding, for example, that patients that have been prescribed painkillers for a condition might ask if they can have a few extra days' worth. Such queries are checked and, where appropriate, prescriptions can be issued without the need for patient's to make unnecessary appointments.
"Once again, this means that we can concentrate on providing more appointments for patients that do need them. It all helps us ensure patients are on the right care pathway to suit their specific needs."

To enquire about your practice getting Patient Access, visit http://www.emis-online.com/patient-access